The inspiration for TeleSense was the identification that only a fraction of almost 500,000 grain storage locations worldwide have some kind of instrumentation to gather data to reduce risk of grain damage due to moisture or temperature build-up. This lack of grain monitoring data is the cause of million-dollar losses for farmers, bulk handlers, traders and grain users every year. As a technology company seeking to solve this problem, TeleSense is focused on bringing advancements in AI, Machine Learning and continuous improvements based on field learnings to our product- offering.
The Team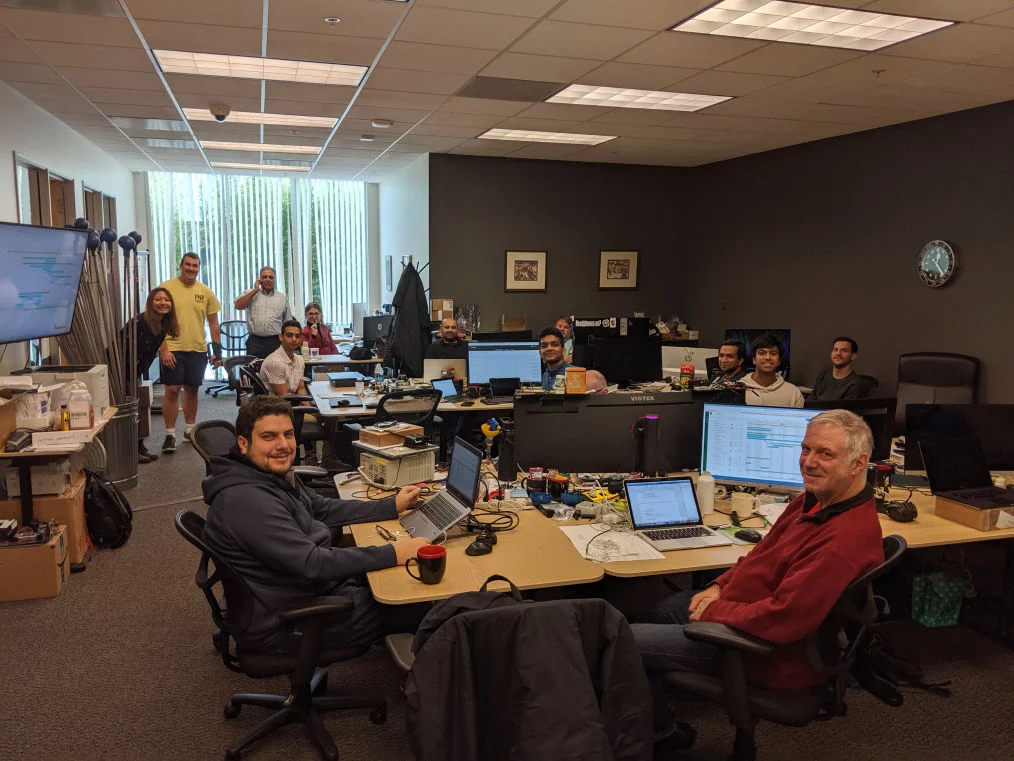 TeleSense is based in San Jose, California with significant field operations across the USA, Canada and Europe. We are proud to be trusted by some of the largest names in grain and commodity management including Cargill, Bunge, ADM and CHS as well as a rapidly growing number of farmers and smaller site network operators. Our proven product range is currently in use by over 500 customers across a diverse range of products including grain, corn and potatoes in storages ranging from silo and bunker to barge, train and ships. For more information on TeleSense Inc and our global operations please visit www.telesense.com
We are backed by a number of significant investors including Maersk Growth, the venture capital arm of the Danish logistics and transportation giant, who made its first agtech investment in TeleSense. Other major investors include Trailhead Capital, the investment arm of McDonald Pelz, the ag commodities broker, Finistere Ventures, Rabobank's Food & Agri Innovation Fund, Congruent Ventures, Fulcrum Global Capital, Artesian Capital Management, Mindset Ventures, UPL, Radicle Growth, and Plug & Play Ventures.
SØren SchrØder

Chairman of the Board, Angel Investor

Soren Schroder joined the TeleSense Board in October 2020.

Soren's 35+ years of industry experience includes a variety of agribusiness leadership roles in the United States and Europe. After working for more than 15 years at Continental Grain and Cargill, he joined Bunge Ltd in 2000. He served as CEO of Bunge North America, from 2013 to 2019, leading Bunge's business operations in the United States, Canada, and Mexico. Soren is active in board and advisory roles for several emerging companies in the agribusiness and food sectors. His experience lies in building global supply chains, managing risk, logistics, industrial and value-added activities, and executing on strategy via acquisitions and partnerships on a global scale.

Mr. Schroder is a Danish National and earned a BA in Economics from Connecticut College.

Mark Palmquist

Regional BD Director

Mark Palmquist has been a member of the TeleSense Board since October 2020.

Mark is the Managing Director and CEO of United Malt Group, which demerged from GrainCorp in 2020. He joined the GrainCorp Board as Managing Director & CEO in October 2014. Prior to that, Mark was Executive Vice President and Chief Operating Officer, Ag Business, for CHS Inc., a leading global agribusiness, diversified in energy, grains, and food. He has held a variety of global leadership roles for a broad range of CHS agricultural inputs and marketing areas, retail businesses, and grain-lgd food and food ingredients operations.

Mr. Palmquist also served as the Director of Rahr Malting, a leading US maltster, and a Non-executive Director of Allied Mills Australia Pty Ltd, until 2017.

Spencer Maughan

Co-founder & Partner, Finistere Ventures

Spencer Maughan has been part of the TeleSense Board since August 2018.

Spencer is a co-founder and partner at Finistere Ventures. Previously, Spencer was an entrepreneur-in-residence at Kleiner Perkins working with the Green Growth Fund on AgTech opportunities. Spencer has also been an investor at Venrock, a Venture Capital firm with >$2b under management. Alongside TeleSense, he sits on numerous boards; he is a catalyst member of University of Wisconsin's WARF accelerator program, an Advisory Board member of CSIRO, Australia's peak science organization, as well as an advisor to the ARENA-sponsored Renewable Energy Venture Capital Fund managed by Southern Cross Venture Partners.

Spencer has a BSc and PhD in Genetics from the University of Melbourne.

Naaem Zafar

President, CEO and Co-founder TeleSense Inc

Naeem is a co-founder and Chief Executive Officer for TeleSense.

An electrical engineer by background, Naeem is a serial entrepreneur who has been involved with several Silicon Valley startups. He started TeleSense in 2014 to apply IoT (Internet of Things) and AI technologies to one of the largest markets in the world: Agriculture. Naeem wanted to democratize the data for post-harvest grain – to benefits growers, grain handlers, and traders worldwide.

Previously, Naeem co-founded and served as CEO at Bitzer Mobile, which was acquired by Oracle in 2013. His previous companies invented the silicon fingerprint sensors (found in laptops and smartphones today) and chip design tools.

Naeem is a faculty member at the University of California, Berkeley, and a professor at the Brown University Department of Engineering, his Alma Mater. He is the author of five books and has published several papers.
TeleSense Australia was formed in 2019 to provide farmers, bulk handlers and other supply chain participants access to the unique and market leading TeleSense technology portfolio.
GrainCorp's Marcus Kennedy - now TeleSense Australia Executive Chairman - identified a perfect match for the unique challenges faced by our grain handlers and farmers and joined to lead the company's growth.
TeleSense products are currently in use monitoring grain across Australia and in a range of storages with customers ranging from major grain handlers (GrainCorp, Emerald Grain and Lawsons Grain) and increasingly in regional bulk handling and on-farm storages. With the growth of on-farm storage and a significant harvest underway for 2020/21 TeleSense Australia is gearing up to support wider adoption of remote grain monitoring and introduction of new innovations including AI led predictive capability to further protect your stored grain.
The Australian Team
Marcus Kennedy

Executive Chairman - Telesense Australia

As a former executive at GrainCorp, Marcus brings extensive industry knowledge and strategy to help TeleSense expand its presence in the Australian market.

He is excited to be with TeleSense, and looks forward to spreading their innovative technology in a region where the products will have an exceptionally resonant impact.

Commencing January

National Sales Manager